DZK312's Fanciful Resources Mod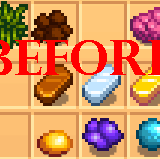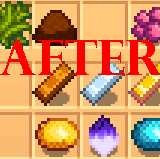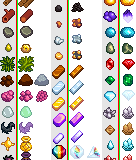 DZK312's Fanciful Resources Mod
Purpose:
Ever notice how there's just so many Content Patcher mods for dogs, cats, horses, characters, portraits, maps, clothes, etc? But what about the little guys, the little items in your inventory that you see on a day to day basis (stardew time of course), some look good, some of them are ok, but many of them are just weird, ugly, or even plain gross. Fret not, because here comes my fanciful resource reskins! I took it upon myself to reskin many of the basic resources in the game and then share it with everyone! Some of the new images are simple recolors of different items, some of them are modified from the original sprite, and a number of them I hand made myself using reference images. The main goal of all the reskins were to make them look more pleasing to the eye, as well as adding a little bit of realism where possible.
Requirements:
• Stardew Valley (duh)
• SMAPI (current version)
• Content Patcher (version 1.7 or newer)
What's Different?:
• Wood• Hardwood• Stone• Sap• Fiber• Clay
• Bug Meat• Slime• Bat Wing• Solar Essence• Void Essence
• Coal• Copper Ore• Iron Ore• Gold Ore• Prismatic Shard
• Copper Bar• Iron Bar• Gold Bar• Iridium Bar• Refined Quartz
• Topaz• Amethyst• Aquamarine• Jade• Ruby• Emerald• Diamond
• Quartz• Earth Crystal• Frozen Tear• Fire Quartz
What's the Same?:
• Hay – It already looks good and I got no clue how to improve it anyways, plus, the new Fiber makes these two look live living and dead grass, so that's cool
• Iridium Ore – Iridium is a metal unique to Stardew and has a unique sprite. Its look is not bad to begin with, plus, the sharpness of it is fitting for the slingshot
Customization:
Customization? Yes, customization. See something you like here but then you look at something else and think you're better off without it? I'm three steps ahead of you! There will be a config.json file (PLEASE be sure to read the README.txt file included) for the mod that let's you customize two different ways. First there's the ability to disable or conversly enable any of the reskin bundles (I say bundles because it makes no sense to, for example, enable gold and iron bars, but not the rest of the bars, and also it's going to be far too much effort on my part and the part of the user to choose each and every single individual item). Additionally, a few select items will have alternate options for your choosing (and more to come).
Future Plans:
• More Items and Item Bundles
• More Alternate Options for Current Items
– If anyone has any suggestions for what you want to see me add to the mod (and also maybe how), or what potential alternate sprites you want to see for current ones, let me know by leaving a post and I'll see what I can do
Mod Compatability:
• No known incompatibilites. This mod will not overwrite any sprites that aren't explicitly being reskinned with the mod
• Blue Iridium – This mod changes all iridium in the game from purple to blue, I have provided a blue iridium bar resprite (Please see note at bottom of README.txt included with the mod)
– If anyone knows of any mods that modify or recolor any of the sprites used by this mod, please let me know via post and I'll see what can be done about it
---