Custom npc Lyell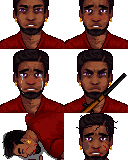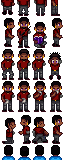 Custom npc Lyell
THIS MOD HAS BEEN MOVED TO A NEW ACCOUNT, THE OLD MOD IS HIDDEN!
special patches with the following:
SVE
Coriels Unique Dating Responses!
Introduction:
If you've grown tired of the same people in Pelican town and are looking to romance a brand new npc. Consider downloading Lyell Halkias as a addition to your game. Lyell so far comes with different expressions and different heart events; with more to come in later updates.
About Lyell:
Lyell is a introverted older man from the Gortoro Empire. After being discharged from the Ferngill military. having joined after his immigration, he has decided to settle in Pelican town, making a small self sufficient farm for himself. Lyell loves animals and is generally well mannered. But while he works towards living a normal life. He has secrets that he's been keeping from everyone around him.
Spouse room template made by HopeWasHere
Installing:
1. Ensure you have the latest and correct SMAPI
2. Install the current Content Patcher, TMXLOADER and custom npc fixes
3. Download this mod and Unzip it.
4: Drop the folder inside of the numbered folder into your mods
Fixes
Pytk and Content patcher bug is fixed!
Schedule fix!
Move to his own map!
Loves: Frozen Tear, Ancient Seed,Rainbow Trout,Beer
Likes: Catfish,Milk,Green Bean,Cauliflower,Cheese Cauliflower,Pizza,Fried Mushroom
Dislikes: Chocolate Cake,Rhubarb Pie,Pink Cake,Garlic,Sea Urchin
Hates: Lucky Purple Shorts,Blobfish
Heart Events:
1:sunny/9am-5pm/any season/seed shop
2: sunny/ 6am-5pm/any season/mountain
3: rainy/6am-5pm/must be spring/hospital
4: rainy/6am-8am/cant be summer/forest
5: rainy/8pm-12pm/cant be summer or spring/town
6: rainy/4pm-11pm/cant be summer or spring/Lyells house
7: sunny/6am-5pm/any season/beach
8: sunny/8pm-12pm/any season/saloon
9: sunny/5pm/any season/mountain
10: rainy/9pm-11pm/any season/forest
11: sunny/6am-5pm/must be winter/secret forest
12: rainy/6am-5pm/any season/mines
Marriage events:
1: sunny/6am-5pm/must be summer/beach
2: sunny/5pm-8pm/cant be fall or spring/bath house
3. sunny/9pm-11:40pm/any season/mountain
This entrance to his new map is located in the forest near the secret woods.
---