Witchy Crystal Farm 2.0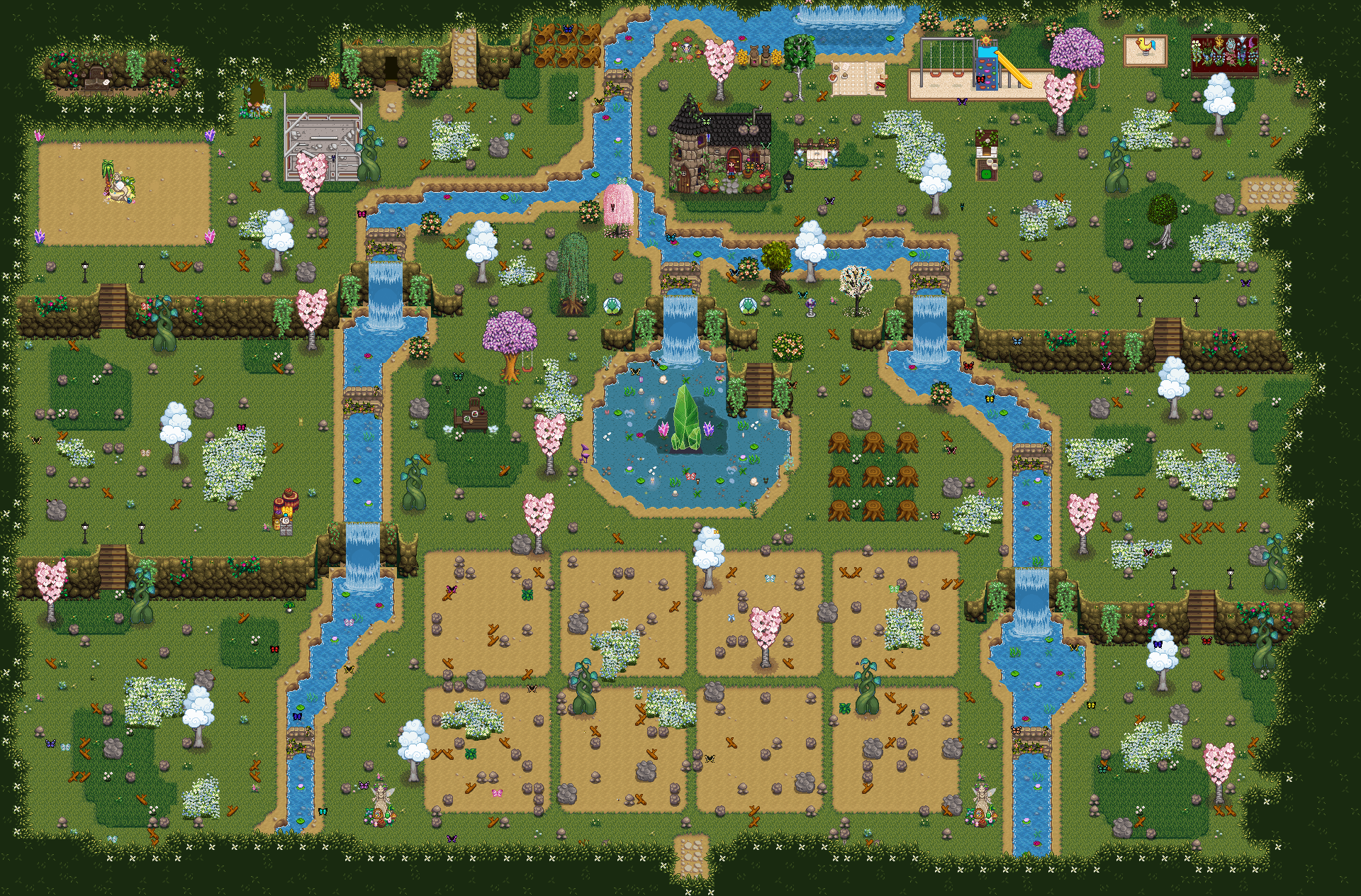 Witchy Crystal Farm 2.0
*fixing tmx files currently
Hey, this is a reboot of my first farm map and I made it to go along with my witchy theme! Enjoy 🙂
Replaces standard farm by default, but the values can be changed in the content.json of the CP folder.
It uses Farm Type Manager for the quarry and foraging locations, and TMX Loader for the warp patches due to the size of the farm. If you want the specific log foraging locations, you will need to start a new farm, unfortunately, but if I find a way around it I will update. In the meantime, you can switch the FindExistingObjectLocations value to false.
All tiles are tillable!
Thanks to minervamaga for helping me make my farm and troubleshoot!
Uses assets from 2cute farm cave, Froststar11's Underground Fairy Spring, Tanpoponoko's Custom Map Elements, Eemie's Flowers, Witchy Decorations, Yellog Pet House Reskin, White Water Farm Map, Rue's Creepy Curios, Maleha's waterfalls, Eemie's Bees, and Mi's and Eemie's Butterflies.
Compatible with all recolors!
Mods used personally in screenshot:
Eemie's Recolor by Eemiestardew/minervamaga
Seasonal Wizard Style House by Naeldeus
Ran's Farm Decor by ranfuu
Flower Valley by KAYA/jina2ya/ParadigmNomad
Eemie's Grass Variety by Eemiestardew/minervamaga
Victorian Mailbox by Eemiestardew
More Butterflies by MelNoelle for Custom Critters by spacechase0
Magica Trees by ERRORcauser
AOFB Shipping Bin by erasercat
Recommended mods to go with this:
Seasonal Wizard Style House by Naeldeus
Seasonal Witchy-Gothic Cabins by Naeldeus
Seasonal Witchy-Gothic Buildings by Naeldeus/Ali Read
Seasonal Witchy-Gothic Inspired Windows by Mycenia
Witchy-Gothic Furniture by Ali Read
Kimberly's Witch Interior by Kimberly
Pookachu's Seasonal Greenhouse by Pookachu
Underground Fairy Spring by Froststar11
Witchy Hats by contrarequiallas/ 7yrsofbadluck
Flower Valley by KAYA/jina2ya/ParadigmNomad
Eemie's Recolor by Eemiestardew/minervamaga
Eemie's Grass Variety by Eemiestardew/minervamaga
Victorian Mailbox by Eemiestardew
---