Stardew Aquarium Mod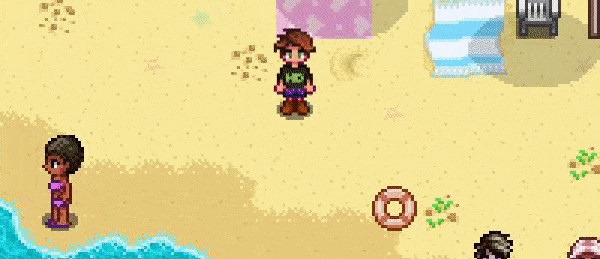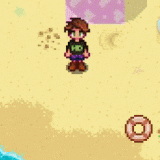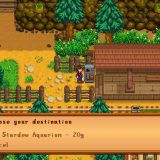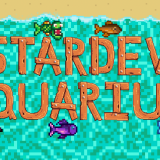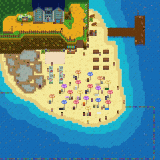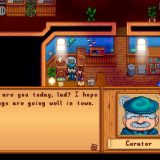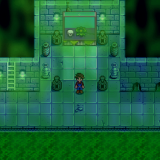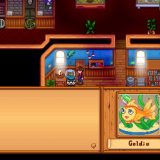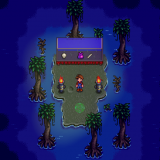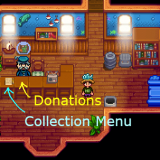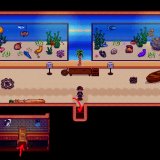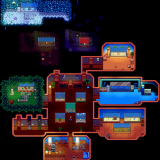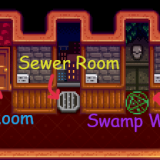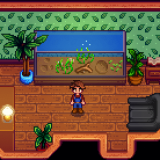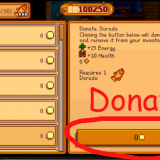 Stardew Aquarium Mod
Stardew Aquarium adds an Aquarium to Stardew Valley. Here you can donate your fish to animated tanks for rewards. Includes a large new beach location with new custom shops.
Help restore the Stardew Aquarium to its former glory by donating fish for its exhibitions! See the collection come to life in full animation as you contribute to the collection. And in the meantime, why not explore the beach outside and buy a snack from the beach shop, or stock up on fishing supplies from the submarine shop if you want to try catching the rumored rare fish in these waters?
Head over to the Aquarium from your local train station today!
Features:
– Two new maps: a large outdoor beach and the Aquarium.
– The aquarium fills up with animated fish and exhibit information as you donate fish.
– Three shops; the beach shop sells snacks, ice cream shop sells… well ice cream and the Submarine shop sells useful fishing supplies, its stock expanding as more fish are donated to the aquarium.
– Achievement and a special reward for donating all fish.
– Can be reached via the train station.
– Is that something in the waters…?
Spoilers:
Rewards & Unlocks
You unlock purchasable, stock-limited items in the submarine shop next to the aquarium as you donate fish:
– Trout Soup, 5 fish donated.
– Magnets & Chowder, 10 fish donated.
– Spinner & Shrimp Cocktail, 15 fish donated.
– Barbed Hook, 20 fish donated.
– Fish Taco, level 3 fishing & 20 fish donated
– Dressed Spinner, 25 fish donated.
– Escargot, level 5 fishing & 25 fish donated
– Fishing Vest, 30 fish donated.
– Dish O' The Sea, level 4 fishing & 30 fish donated.
– Trap Bobber, 35 fish donated.
– Fishing Hat, 40 fish donated.
– Fish Stew, level 6 fishing & 40 fish donated.
– Cork Bobber, 45 fish donated.
– Lead Bobber, 50 fish donated.
– Lobster Bisque, level 7 fishing & 50 fish donated
– Wild Bait, 55 fish donated.
– Seafoam Pudding, level 10 fishing & 60 fish donated.
– Blobfish Mask, donated the Blobfish.
– Custom Legendary fish masks, donated the required legendary fish.
– Custom secret reward from the curator after donating all fish.
Secrets:
This mods also adds a new legendary fish. It can only be caught on the new exterior map if you meet some specific conditions. You can donate this mysterious fish to the museum to unlock a secret room!
The conditions for catching the legendary fish:
– You must have caught a Pufferfish.
– A chicken must have laid an egg in your coop.
– There is a 1% chance for catching the legendary fish. This chance is increased 0.5% for every fish donated.
The legendary fish is animated with CP-A. This can be disabled/enabled with the config.json in the [CP] Stardew Aquarium folder.
Make sure to have the latest versions of the required mods:
– SMAPI
– Content Patcher
– Content Patcher Animations
– TMXL Map Toolkit
– Train Station
– Shop Tile Framework
– Json Assets
– PPJA – More Recipes_A Collection of Recipes (optional, adds more food to the shops)
– PPJA – Fresh Meat_An 'Alternative' Butcher Mod (optional, adds more food to the shops)
Drop the Stardew Aquarium folder in your mod folder. After that load up the game and enjoy.
Config
There is a config.json located in the "[SMAPI] Stardew Aquarium" folder. Here you can turn off the "recatchable legendary fish" feature. The first legendary fish of it's type will sell for it's full price, after that the rest will sell for 0. If you have the Recatch Legendary Fish mod this feature is automatically disabled and will use that mod's settings instead.
You can also change the price of the train ticket in the TrainStops.json located in the [TrainStops] Stardew Aquarium folder. Simply change the "Cost": x, to however many G you want the ticket to cost.
FAQ
How do I get to the Aquarium?
You get there by train, thanks to the Train Station framework mod. Go to the left side of the train station and click the ticket machine. A ticket costs 20 G.
How do I donate fish?
Click the counter in front of the curator NPC while having an un-donated fish in your inventory. You can click the book on the left of the counter to see the collection menu.
What if I have sold/lost a legendary fish?
This mod will make legendary fish recatchable until donated. Their sell price after the 1st catch will however be 0 (To avoid exploit). If you have the Recatch Legendary Fish mod installed this feature will be disabled and use said mod instead.
Does this work on multiplayer?
Yes.
Does this work on Android?
Yes. The normal donation menu however doesn't work on Android, so it is replaced with a repurposed shop menu. For each fish you can donate, it'll look like you are "Purchasing" that fish for 0 G (See media for example) . This may be improved in the future.
Is this mod compatible with other mods?
Yes, we designed the mod to be compatible with as many mods as possible.
What about modded fish?
If you have mods that adds more fish to the game, you can donate them to the aquarium. They will also be included in the achievement for donating all the fish. However, there is a limited number of modded fish with visible tanks
Bugs
Currently there is a known bug where exiting to title causes all rotated tiles to go back to their original state, making maps look very strange, so if you're going to play on another farm or resetting the day, you should instead restart the entire game. This is a bug with TMXL and rotated tiles, there is unfortunately nothing we can do on our end.
You can post bug reports in the "Bugs" section on this page, please remember to add a SMAPI log to the report.
---