Upgraded Preserves Jars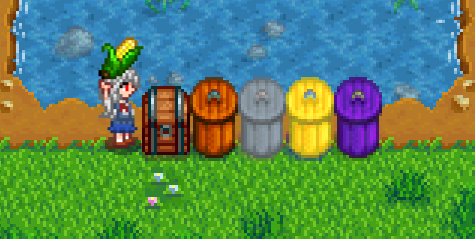 Upgraded Preserves Jars
Add efficient Upgraded Preserves Jars based on Custom Farming Redux.
Here is another solution to tons of vegetables or fruits you harvested. Just throw them into very few upgraded preserves jars easily.
4 new preserves jars are added to free your hands.
Compared with vanilla preserves jars, the processing time of upgraded ones is not changed, but the amount of ingredients and products are both multiplied by:
Copper Preserves Jar – 5x
Iron Preserves Jar – 20x
Gold Preserves Jar – 80x
Iridium Preserves Jar – 320x
Recipe of one preserves jar = Wood*50 + Coal*40 + (this kind of metal bar)*5
Actually this mod is quite similar to my Upgraded Kegs. I thought you may have different preferences to kegs and jars so I did not combine them together. Of course it's OK to have both of them installed at the same time.
Installation
Custom Farming Redux is required. For CFR v2.9.10 or later, just extract mods into "\Stardew Valley\Mods" folder.
---