Industrial Furnace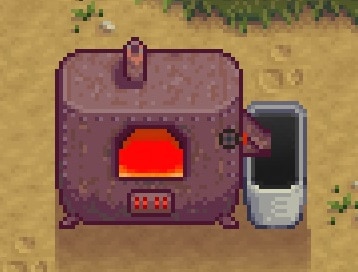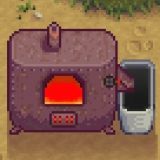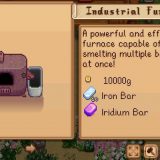 Industrial Furnace
Adds a new building that can smelt massive amounts of ores over night. It functions pretty much like the Mill and is meant to help process large bulks of ore in the late game. The furnace also uses 8 ores per bar instead of the normal 10, but that can be changed in the config.
The texture is made of bits and pieces of basic Stardew Valley textures.
Install
Install the latest version of SMAPI and Content Patcher.
Download this mod and unzip it into Stardew Valley/Mods.
Run the game using SMAPI.
How to use
The building can be bought from Robin for 10000g, 10 Iron Bars and 1 Iridium Bar. To use the furnace you first place the ores inside and then start the furnace by placing 5 pieces of coal. The furnace cannot be interacted with after it starts and it finishes smelting during the night. The furnace has an internal capacity of a chest so you shouldn't run out of space anytime soon.
Config
Spoiler: Show
Compatibility
Works with Stardew Valley 1.4.5 on Windows. I'm not really sure about other platforms or versions.
Hasn't been tested in multiplayer yet, but I suspect it will not work.
See also
Add links below for your mod, and remove any that don't apply. Don't forget to remove this sentence.
Release notes
Source code (Coming soonish, once I finish refactoring it to be a bit more readable…)
---