Auto Resources Mod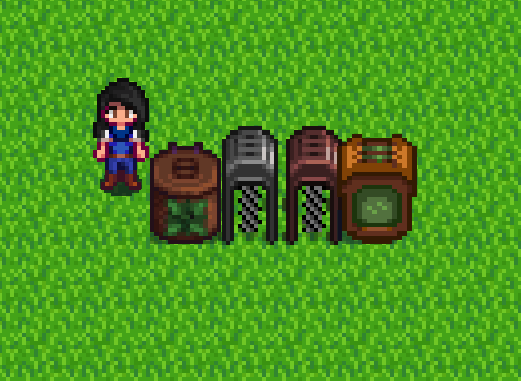 Auto Resources Mod
Drill sprites originally from the Industrialization mod by DraLUSAD!!! This mod and industrialization go great together! Check it out!
Too lazy to chop your own wood, mine your own stone, dig your own clay, or gather your own fiber? Look no further than Auto Resources!
While the original cost might seem a little steep for these machines, they will pay for themselves in due time, as they automatically generate basic resources every single day!
Wood Machine – A specialized machine infused with forest magic, generates 10 wood or hardwood every day.
Fiber Bin – A bin designed to grow weeds for the purpose of collecting fiber. Generates 15 fiber every day.
Stone Drill – A drill that drills, well, stone. Generates 10 stone every day.
Clay Drill – A drill that drills, well, clay. Generates 10 clay every day.
Requires Custom Farming Redux to work!
To install, simply place the [CFR] Auto Resources folder into your mod folder. So long as you installed CFR beforehand like a good boy/girl, you can now craft the machines.
---