Custom npc John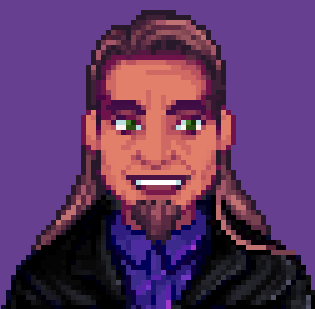 Custom npc John
Introduction:
If you've grown tired of the same people in Pelican town and are looking to romance a brand new npc. Consider downloading John as a addition to your game. John so far comes with different expressions and different heart events; with more to come in later updates.
Spouse room template made by HopeWasHere
Custom Npc Template made by Coriel
John is now compatible with Karmylla's Immersive Maps for both her original edition and the SVE edition. You need version 2.6.3 of her mod to play with him.
Nexus Mods : Karmylla's Immersive Maps
About John:
Coming from Zuzu, John is seeking a simple, clean life in hopes of bettering his health both mentally and physically. He's reserved and rather shy. Learn more about him by playing the mod!
JOHN DOES NOT SPAWN UNTIL TWO DAYS AFTER HIS INTRODUCTION EVENT. YOU MUST PLAY SEVEN DAYS INTO THE GAME TO TRIGGER HIS EVENT
Installing:
1. Ensure you have the latest and correct SMAPI
2. Install the current Content Patcher
3. Download this mod and Unzip it.
FIXES:
John now spawns after 7 days instead of only on the 7th. sorry about that
You can find John located in the Saloon. He doesn't spawn until two days after the intro event is seen.
Johns birthday is now the 17th
Loves: Lobster,Shrimp,Ring of Yoba
Likes: Amethyst, Topaz, Pumpkin Pie,Fruit Salad
Dislikes: Trout Soup,Blue Jazz
Hates: Parsnip Soup
Heart events:
12pm/7 days after playing/bus stop
friendship 250/8 pm/saloon
friendship 500/rainy/8pm/forest
friendship 1000/sunny/9 am/seed shop
friendship 1500/6 am/Wizards house
friendship 1250/rainy/must be spring/11 am/Hospital
friendship 1750/8pm/saloon
friendship 2000/3pm/must be spring or summer/must be dating john/town
---