Tomato is a Fruit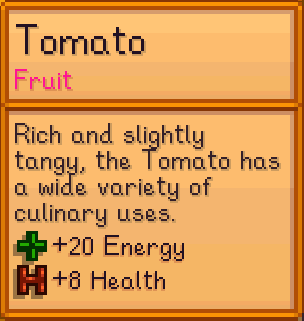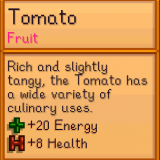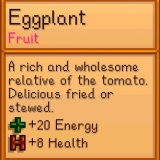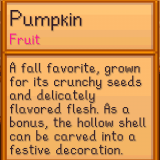 Tomato is a Fruit
Tomato is a Fruit
After a certain discussion between Demetrius and Robin, this mod changes the tomato, eggplant, and pumpkin's classifications from vegetable to fruit. Depending on the season, you may also receive some follow-up mail.
Installation
This mod requires Content Patcher. Unpack and place the "[CP] Tomato is a Fruit" folder into your Mods folder.
Config Options
To configure the options of this mod, open the "config.json" file from the mod folder with a text editor on your computer. If this is your first time using the mod, you will need to run Stardew Valley first before the "config.json" file will appear in the mod folder. If you delete, rename, or corrupt the "config.json" file, it will be recreated automatically the next time the game launches, with default options selected.
A full list of the config options has been included in the "ConfigInstructions.txt" file in the mod folder. However, they are also posted below for your convenience.
Selectable Options
ModActive: Off, On
Off: Normal game mechanics
On: Changes tomato/eggplant/pumpkin classification from Vegetable to Fruit
Questions/Issues
If you have any questions or issues, make a post or report a bug. You can also find me over in Modding on Discord, just ping Geminia#9128.
Changelog
1.0 – Initial upload to Nexus
1.0 – Added eggplant and pumpkins.
1.1.1 – Fixed minor bracket error.
---